Fee Based
Life Happens…Plan* For It
At Crystal Clear Financial Group it's our belief that in order to achieve your financial and personal goals you need to develop a plan which will serve as a roadmap for your success. Whether you are planning for yourself, your family, or a business, there are countless paths to consider, and some work better than others. We'll help you decide.
We recommend you start with planning*.
At Crystal Clear Financial Group we go out of our way to make sure that you fully understand how the fee-based financial planning process* works. We believe that engaging in this process allows you to think and act more powerfully. We set realistic goals and targets to focus on, and we monitor progress throughout the years. A comprehensive written planning document will be drafted and delivered upon completion.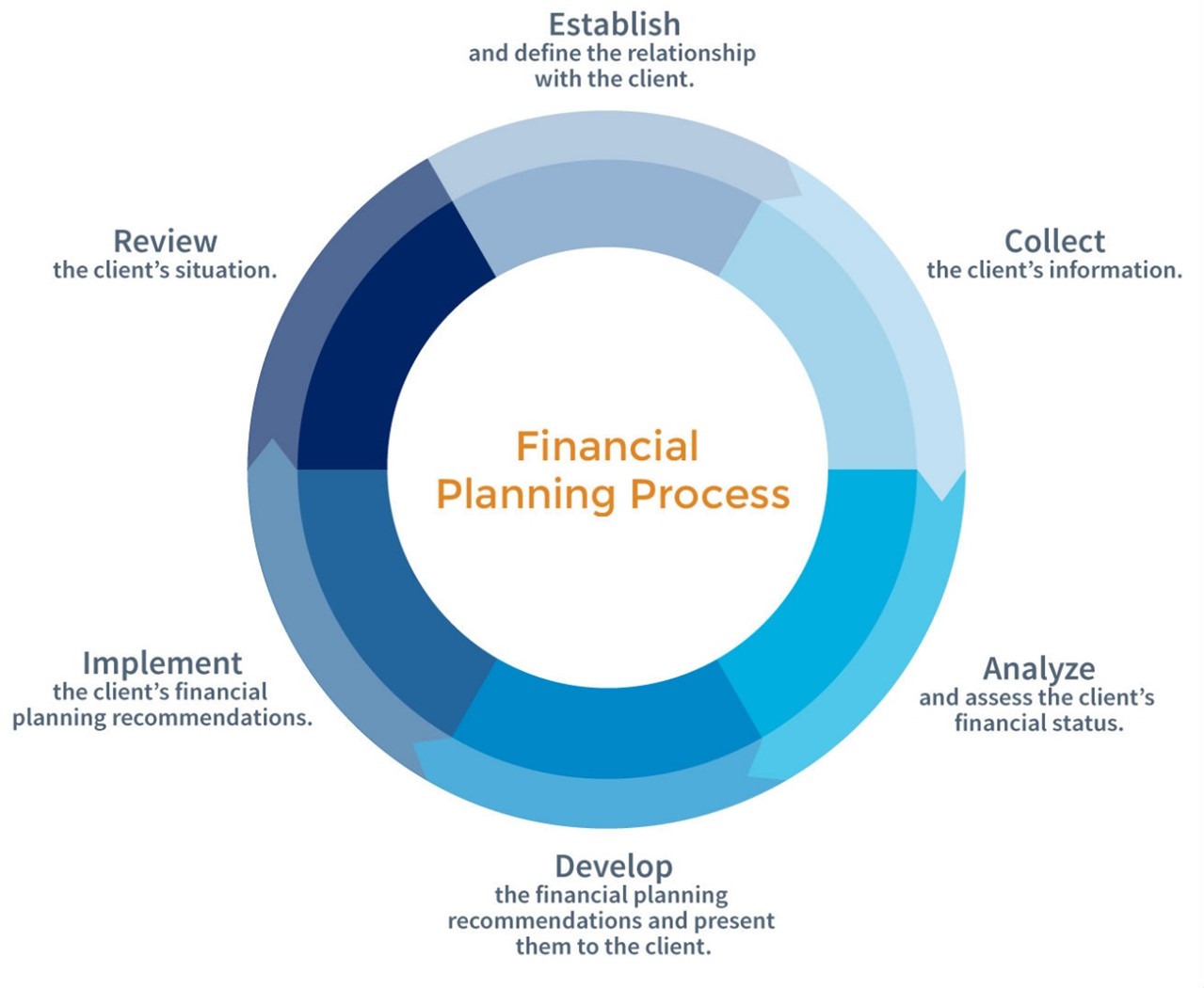 Understanding the Financial Planning Process*
Six Steps for Financial Success
To develop a solid financial plan*, it's important to cover all your bases, including examining your current situation, setting financial goals and measuring your progress. From start to finish, our advisors can take you through the financial planning process steps to help you achieve your financial goals.
Here are the six financial planning steps:
1. Establishing and defining the client professional relationship
Your advisor will explain the financial planning services that will be provided and define each of the steps involved. Along with fee compensation, you'll discuss how the professional relationship will progress. Throughout the process, you and your advisor will develop customized financial strategies that help turn your goals into reality.
2. Gathering client data, including goals
You and your advisor will talk about your current financial situation and gather any necessary documentation. Together, we will define your personal and financial goals, including time frames, income sources and other factors. You will also discuss your comfort level when it comes to taking financial risks. Keep in mind that the plan is only as good as the information that is received, so it will be important to provide as much information as possible.
3. Analyzing and evaluating your financial status
Your advisor will then consider all aspects of your situation to determine what you need to do to meet your goals. Depending on the level of services that are needed in your plan which could include analyzing your assets, liabilities and cash flow, current protection insurance coverage, investments or tax strategies, asset allocation, retirement income strategies, educational planning, and estate planning.
4. Developing solutions
Next, your financial advisor will discuss various options and recommendations that will be part of your custom financial plan*. At this stage, your advisor will listen to any additional concerns or questions you may have before creating your financial plan*.
5. Present Personalized Financial Plan* and Implementation Strategies
Your Financial advisor will present you with your customized financial plan to set you on a path to attaining your financial goals and the future you envision.
6. Monitoring recommendations
As you work towards your goals, you will need to decide who will monitor your progress to make sure you are staying on track. This will require a conversation with your advisor to determine the timing and your needs. This could include a 'check-up' as you encounter life changes.
The fee structure for your plan* is dependent upon the amount of time the advisor* will need to spend and upon the complexity of your situation.
We primarily offer a flat fee for service arrangement. You will then work with your advisor to determine the scope of the ongoing work involved. This could result in an annually renewing fee arrangement, but it is not a requirement of the flat fee for service arrangement. Each client situation is different and we try to take a common sense approach to the ongoing relationship and corresponding fee structure.
On some occasions, we find that an hourly rate service is warranted for specialized planning services*.
Our advisors* provide a no obligation initial consultation to determine if there is a fit for our services.